After a painful non-conference slate, Michigan is looking to rebound in Big Ten play. Michigan has a 4-8 record which is the worst in the Big Ten at this point but the question is where do they go from here.
In this preview I look at the conference and break down how the conference looks after the non-conference slate. Then I conclude with looking over Michigan's team position by position after the abundance of departures. Read the rest after the break.

The Conference
The BigTen did not perform that well as a group throughout the non-conference season. Because of this the conference RPI is 6th behind the Big 12, ACC, Pac 10, Big East and SEC, this certainly won't provide any favors come Selection Sunday. So where does Michigan fall in the Big Ten?
Big Ten Standings
Team – Record – RPI/SOS
MSU – 12-1 – 15/50
Indiana – 11-1 – 46/210
Minnesota 10-2 51/202
Wisconsin – 10-2 – 16/24
Ohio State – 9-3 – 23/21
Purdue – 9-4 – 148/226
Penn State – 7-4 – 166/205
Illinois – 8-5 – 115/98
Northwestern – 5-4 -187/181
Iowa – 7-6 – 232/245
Michigan – 4-8 – 183/43
There is a clear upper tier of the Big Ten this year. This tier includes MSU, Indiana, Wisconsin and Ohio State. These are teams that Michigan has a minuscule to no chance to beat any of these teams on the road and potentially could knock one off at home in a big upset. Against this top tier Michigan plays:
1/2/08 – Home vs Wisconsin
1/8/08 – Home vs IU
1/22/08 – @Wisc
1/27/08 – @MSU
2/5/08 – @OSU
2/17/08 – vs. OSU
The good aspect of this is that Michigan is lucky enough to catch Indiana and MSU just once. The negative is that 4 of our 6 games against the "top tier" come in the month of January. This grueling stretch could kill any bit of confidence left in a limping 4-8 team.
The middle tier of the BigTen appears to have solidified as Purdue, Illinois and Minnesota. These schools can probably play with any team in the BigTen on any particular day but show signs of inconsistency (Illini losing to Miami OH and Purdue losing to Wofford). Purdue is a very young team that I think will come together as the year moves on and could suprise people. Michigan plays all three of these teams twice. Minnesota is a questionable team who's best wins are over the likes of Iowa State, Santa Clara and CMU, and could potentially fall into the bottom tier.
This leaves Penn State, Michigan, Northwestern and Iowa for the bottom tier. None of the teams look good on paper or based on their results. Michigan plays all three other bottom tier teams twice.
The Team
After the departures of Baker, Price, Morris and Smith, Michigan is left with a depleted roster in terms of depth. Luckily the best talent on the team is still here. The roster breaks down by position like this:
Point Guard: Grady, Lee
Off Guard: Harris, Merritt
Wing: Coleman, Shepherd
Power Forward: Sims, Wright
Center: Udoh, Gibson
It is important to remember than in Beilein's system the point and off guard positions are very similar and any combination of those 4 players can be on the floor at any time. Of course with only 8 scholarship players the scary part here is depth, any injury will be catastrophic at this point in the season. The other big problem is that we are relying on two freshman in the backcourt whom have not been through the grind of an entire BigTen basketball season and will probably start to wear down.
At the point guard it is time for Kelvin Grady to step up another level. He has had flashes of greatness throughout the season but has not played consistently all year. He needs to start getting after it on defense a little harder and work on not getting caught out of position. Lee on the other hand plays hard on the defensive end and is going to continue getting big minutes on this team. He can be a solid backup point guard but we can't expect much more.
At the off guard it is only the Manny Harris show. He has struggled of late on offense:
Team -- FGM-FGA Points
Harvard 5-17 13 pts
Duke 2-9 8pts
Oakland 7-16 24 pts
CMU 3-10 12 pts
UCLA 3-12 11 pts
While he has struggled, he has shown the potential to carry a bulk of the load scoring and is going to have to for any type of success. The long break should help Manny get refocused and ready for the Big Ten slate.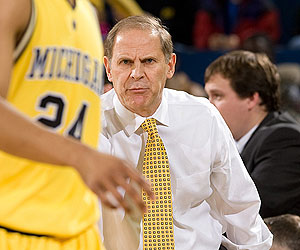 The wing position is the weakest position on the Michigan roster. Ron Coleman has had four years to prove that he belongs in a Michigan uniform and he hasn't proved it yet. Ronnie has missed some wide open looks from three point range recently and they have been costly. Jevohn Shepherd has actually started picking up his game of late. He is a good defender and a good rebounder and can even get in the lane at times. However his problem his entire career has been finishing and shooting. I know it is Beilein ball but Jevohn needs to control himself and cool on the three point shots.
At the four position DeShawn Sims has been impressive throughout most of the year. The biggest issue here is consistency. "Peedi" can be nearly unstoppable at times and completely disappear at others. If he can add consistency to his game, Peedi can be a force in the Big Ten. Anthony Wright hasn't done anything for me all year but by this point will probably be forced into action with the lack of depth.
Ekpe and Zack make up probably the strongest position group on the team. Ekpe is a beast on the defensive side of the ball and brings some spark to this team. He has picked his game up a lot since his early struggles. Gibson has also shown flashes and is a solid backup center for the most part.
The season looks to be a long struggle but hopefully the team can stick together and finish strong down the stretch when the schedule lightens up. However the first gauntlet might be enough to break an already weak team.