Mike from Black Shoe Diaries agreed to preview the Penn State basketball team this season (even while their football team is on their way to an undefeated season). In life after Geary Claxton, Penn State will look to Jamelle Cornley to take them to the next level. Past previews: Indiana, Michigan State, Minnesota, and Ohio State.
Penn State really played two seasons in 2007-2008. There was the season before Geary Claxton tore his ACL, where the Nittany Lions went 10-5 and looked poised to make their first post season appearance since 2006, and then there was the season after Geary Claxton went down in which Penn State only won five of their last sixteen games.
Considering Geary Claxton has graduated and isn't coming back you would think expectations would be low in Happy Valley this year, but surprisingly the mood around this team is very optimistic. The loss of Claxton along with a late season injury to Jamelle Cornley forced Penn State to play a lot of freshmen. They started to get it together at the end of the season and managed a major upsets over Michigan State and Indiana. Penn State now returns seven players that started at least 12 games and account for 73% of its scoring and 81% of its rebounding from last season.
The backcourt will feature two electric point guards in senior Stanley Pringle and sophomore Talor Battle. Penn State played them on the court together a lot last season due to the lack of a good shooting guard athletic enough to play man-to-man defense. Freshman Chris Babb joins the team to fill that role this year. Babb averaged 31 points per game as a senior in Texas and is said to have an excellent jump shot. His athleticism will be a major upgrade over the departed Mike Walker. Senior Danny Morrissey will provide a viable long range scoring threat off the bench, but he will limit the things Penn State can do on defense.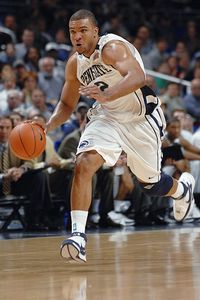 The play of the frontcourt will decide the fate of this team. Jamelle Cornley is capable of averaging 20 points and 10 rebounds every night, but he has had trouble staying healthy his entire career. He will have to stay healthy for Penn State to compete. The other key is the development of the three sophomores; Andrew Jones, D.J. Jackson, and Jeff Brooks. All three guys have excellent athletic ability, but last year they lacked confidence and aggressiveness. Penn State will also look to freshman Billy Oliver and Villanova transfer Andrew Ott to make a contribution.
Penn State is extremely encouraged after finishing seventh in the conference last year. They are a good team that can beat anyone, but they aren't a great team that can play poorly and still win. The out of conference schedule is favorable, and anything less than the seven conference wins last year has to be considered a failure. This team has a chance to make the post season, but it's not going to be easy.