Previously: Illinois, Michigan State, Minnesota, Ohio State, Penn State, Wisconsin
Next up in the Around the Big Ten series, Northwestern. The Wildcats pulled off some shocking upsets last year and the folks in Evanston are excited for the upcoming year. I got a hold of Lake The Posts to talk some Northwestern hoops.
Last year was one of the best seasons in recent history for Northwestern basketball… How do fans feel about this year's team? Are they expecting more this year?
There is a somewhat unprecedented sense of optimism heading into this season. We return 4 starters, but the loss of 3-point bombing bad ass Craig Moore definitely will hurt. However, we have a relatively hyped frosh in Drew Crawford who is the slashing/scoring/dunking (what – a dunker?!!!) type we rarely get at NU. Many believe THIS is the year we FINALLY break into the NCAA Tournament for the first time ever. A lot of speculation over what type of celebration would be bigger – 'Cats in the Dance vs 1995 Rose Bowl (Rose Bowl usually wins that debate). My only fear is that Carmody doesn't continue to make poor personnel decisions down the stretch of key games.
Craig Moore was one of the best shooters in the entire conference, is there anyone waiting in the wings to replace his deep threat?
Each of our bigs has improved their shooting, including John Shurna, the 6-9 soph who spent the summer helping the USA u-19 team win a world championship. I've also heard promising things about incoming freshman, Alex Marcotullio, who allegedly has some range.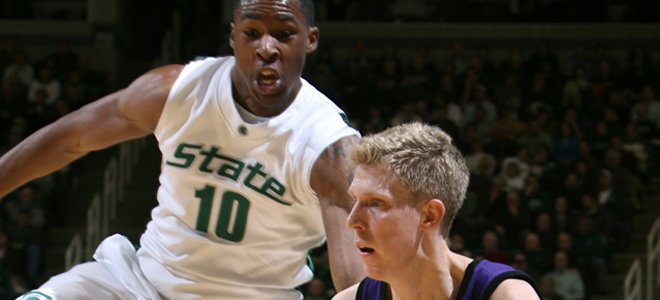 Just how good is Kevin Coble?
That good. He's got the look that inspires chuckles from opponents as his wiry frame belies his true talents. He makes the improbable look routine. The kid is an all-out player who simply gets it done. However, there will be no more surprises as most teams will adopt the "contain Coble and let the other 4 beat us" approach. Without the proven 3-point dead-eye of Craig Moore, the key to NU's season will be consistent outside 3-play from Shurna and/or others to send a message to Big Ten teams that you can't just collapse the D and play a zone which is what I would do.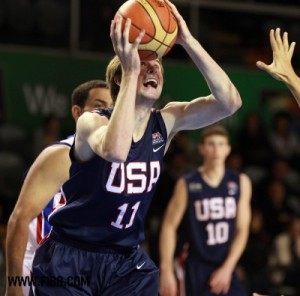 Bill Carmody, Michael Thompson, and John Shurna
It appears that most of last year's team (besides Moore) is back, guys like Michael Thompson and John Shurna have shown flashes of potential, can they take the next step?
You hit the big question. That and how quickly can Drew Crawford step in. NU suffered a somewhat major blow as 7-1 center Kyle Rowley fractured his foot and will be sidelined indefinitely. Rowley was a work in progress to be sure, but showed flashes that he could become a presence. Michael Thompson has shown flashes of greatness with 20-point games but can be invisible for long stretches. I believe Thompson needs to step up and take ownership of this team much the way Jittim Young did half a decade ago.
What are the highlights of Northwestern's non-conference schedule?
We're playing a very competitive schedule in my mind. Especially considering the need to get non-Big Ten wins. I haven't checked our SOS yet, but it has to be high. We host perennial NCAA Tourney bracket buster Butler at home, Stanford at home, Notre Dame at a neutral site and at NC State in the BT/ACC Challenge. Granted, we have our fair share of Tennessee States, Libertys and NIUs, but overall a healthy dose of competition. NU has more home games than I can ever remember, so getting a buzz on campus early is key as we need to get fans in seats prior to Big Ten play to make a difference.
Last year's team struggled inside especially with rebounding, getting to the line, and blocking shots — is there any reason to expect improvement here?
Carmody has had a signature style of not crashing the boards, but we finally have the size that we should be crashing better. Our defensive rebounding has been a Carmody era achillees heel and this is the single biggest area of improvement. We'll block less than I expected with Rowley sidelined, but our ability to get to the line will be dependent upon both Thompson and Crawford's collective ability to penetrate and draw traffic so they can dish to the bigs for traditional 3-point play opportunities. We relied on Moore too much at times to bail us out with a last second (on the shot clock) three which led to a lack of penetrating and creating free throw opportunities. I expect that to change.

E'Twaun Moore
Most feared player in the Big Ten?
Purdue guard, E'Twaun Moore. The kid from East Washington, IN was spurned by Carmody and NU even though he wanted to go to NU. Now, out of spite, he terrorizes NU and then likes to point out we didn't give him a shot. An athletic force like Moore witih a personal vendetta is a scary thing for us.
Predicted record for next year (conference and overall)?
19-10 (9-9) We'll need to make some hay in January as the schedule gods have us heading on the road for 3 of our last 4 Big Ten games including Wisconsin and Indiana – two places we rarely play well.
Any last words?
Yes. Part of the buzz has to do with recruiting. Hoops recruiting NEVER makes the Northwestern conversations, yet we recently landed a 4-star guard, Jershon Cobb from Atlanta, GA and are in the mix for 3 top 30( overall !!!) 2011 players from the same HS team in Alpharetta Georgia , who have been dubbed the Georgia Peaches. The Milton High School standouts are point guard Shannon Scott (son of former North Carolina and NBA standout Charlie Scott), shooting guard Dai-Jon Parker and power forward Julian Royal. Two of the three are 5-stars, which we've never had and all three are seemingly buying into the prospect of being the guys who bring us to the first ever appearance in the NCAA Tournament. NU assistant (and former NU forward) Tavaras Hardy is on the verge of sainthood in NU circles if he can pull off the miracle recruiting upset.