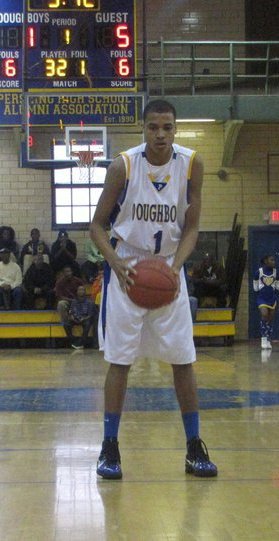 The Motor City Classic, one of the premiere holiday hoops tournaments in the state of Michigan, has been taking place all week at Detroit Country Day. My inbox has filled up with several notes and scouting reports from the event so I compiled them into one post. First off, Jack Robenalt made it out to see Sherron Dorsey-Walker last night versus Jackson (we'll have video later this evening) . We also have a second opinion of Sherron and thoughts on 2013 point guard Derrick Walton from earlier in the week at the bottom of the post. Here's Jack's report:
John Beilein and Bacari Alexander were on hand to watch Sherron Dorsey-Walker and Detroit Pershing beat Jackson High. Dorsey-Walker finished the game with 17 points and Pershing won the game, 69-68, on a free throw with no time remaining. Dorsey-Walker started on the wing but played significant minutes at the point during the second half.  Dorsey-Walker had a solid game but his playing time was limited due to frequent Pershing substitutions and dealing with foul trouble all game. He fouled out about halfway through the fourth quarter on a slightly suspicious charging call and probably played around two and a half quarters total.
He started extremely hot, opening the game with a steal around midcourt that he took in for an easy layup. Immediately after that he drained two three pointers and dished an assist and a couple rebounds, capping an eight point burst in the first four minutes of the game. He looked unstoppable, but then his long range jumpshot cooled down. He settled for long range jumpshots in the second quarter and couldn't find his range, finishing the half with just eight points.
He came out in the second half running the point, however, and regained his effectiveness while becoming more assertive with the ball in his hands. He ran a solid offense, making smart passes and driving into double teams and kicking it out to the open man quite often. He showed some quickness on the ball, breaking the press with the dribble and making sound decisions. The game was extremely close the entire time and Dorsey Walker's switch to the point guard and effective management of the offense kept Pershing alive. He showed a bit more tenacity on offense when he was at the point, driving to the hoop and dishing to open shooters effectively. He also drained an NBA distance three pointer right before he fouled out.
Dorsey-Walker was also tenacious on defense, playing the point on a full court press and shadowing Jackson's point guards up the floor before dropping into the post and showing a knack for hitting the boards. He had at least a couple steals and some very nice rebounds in traffic, and looked good physically most of the time. He got pushed around occasionally, but that'll happen when you weigh 180 and bang around in the post. He obviously won't be asked to do that at the next level.
However, Dorsey Walker definitely didn't have the best game he's ever played. His 17 points were nice, but they came on a bunch of shot attempts. After hitting his first two threes, he was too eager to keep jacking them up, and got really cold in the first half from deep. He wasn't taking it to the hoop or creating at all in the first half, and looked a bit lost in the second quarter, going scoreless and picking up stupid fouls. He also fouled out pretty early, which might have been the cause of his inconsistency throughout the game but fouling out is not what you want to see from a guard in a high school game. Pershing pulled off a miraculous one point win, but had Dorsey Walker not fouled out so early they most likely would've had the game under control earlier.
Here are more notes from the inbox on Sherron Dorsey-Walker (in a different game) and 2013 guard Derrick Walton from earlier this week:
Derrick Walton vs. West Bloomfield – First let me say I was a little blown away how such a young player could control the game without really trying to stand out. Walton had 24 pts on 2s (5-7) 3s (1-2) FT (11-14) with 8 assists and 2 steals. Chandler Park beat West Bloomfield 72-64 but Chandler Park actually controlled the whole game, which wasn't really that close. Walton is probably 5-10 and is a true point guard. Even though he could have gotten his shot off at will, he really worked within the offense and tried to get his teammates involved. He scored off the drive and hit a couple mid-range shots. He has amazing court vision to go with great handles and when you throw in a very good shot that makes him a extremely tough cover. The two areas he needs to improve are getting stronger and moving his feet on defense.

Sherron Dorsey-Walker vs. Cincinnati Winthrow– Sherron took it to the rack more than I was expecting since last year he was primarily a shooter playing with Appling and Howard. He had 24 pts 2s (4-10) 3s (1-7) FTs (13-14) with 5 assist and 5 steals. He definitely has the skill set that would fit in nicely with Beilein's offense because he would have a chance to set his feet more when he shoots instead of so much one on one play where he shoots so much on the move. He is 6-4 with long arms and is built like a shorter version of Tayshaun Prince. He needs to get stronger and not force the play so much but that could be a product of the team he plays on. He showed ability that he could be a plus defender if he gets stronger.