Inside the Hall might be the best team specific college basketball site on the internet so we were pleased that they agreed to participate in a pre-game question and answer in preparation for Michigan's trip to Assembly Hall this weekend.  We not only have input from one Hoosier expert we have two,  with Alex Bozich and Zach Osterman both answering a handful of questions. You can find my answers to their questions over on their site by clicking this link
Through early conference play, Indiana has the worst defense in the league and is allowing opponents to score 1.26 points per possession. Is the defense really this bad? What is your explanation?
Osterman: There are a few answers to this question, chiefly among them defensive communication. Indiana seems to struggle with it, something that Tom Crean has bemoaned more than once over the past few weeks. Against Northwestern that lack of communication was evident in defending in transition, which Indiana did not excel in at all. Players who should not have been left alone in transition (like John Shurna) were. Post defense is also a rather large problem. Indiana's best post defender, Tom Pritchard, doesn't offer nearly as much offensively as either Christian Watford or Derek Elston. But the latter two, for different reasons, aren't nearly so reliable defensively. Help defense has also been inconsistent, and moving with ball movement has given Indiana problems, opening up 3-point looks for opponents. Those are but a few answers to that question, but they are maybe the most noticeable.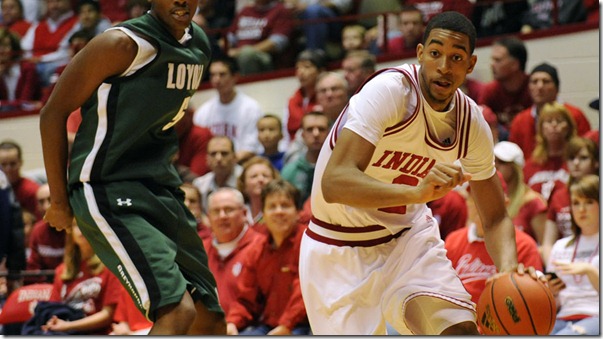 Christian Watford leads the Hoosiers in scoring and rebounding. How good has he been this year?
Osterman: He has been, at times, easily Indiana's best player, and the kind of impact player you imagine in the NBA eventually. By and large, however, that is not the Watford that has shown up in Big Ten season. He's hit double digits twice in four games, but really didn't start scoring against Northwestern until Indiana was in a deep hole on the scoreboard. He had some issues back spasms early in Big Ten play, but he's said those are behind him. Still, he's played lately like he's in a funk of some kind, and just generally hasn't been nearly the assertive player he was in the non-conference (and that includes Kentucky, not just some of the easier opponents). It's also hard to see why an 83.2 percent free-throw shooter who leads his team in that category in attempts this season has taken just nine in four Big Ten games. He seems to be settling for jumpers too often. Overall, Watford can hurt a team, but he hasn't been at his best lately, and his defense has left something to be desired as well.
Indiana fouls as much as anyone in the country. Will they foul enough to put Michigan, a team that rarely shoots free throws, on the stripe?
Bozich: There's no evidence to suggest this is a problem that will be corrected until Indiana plays better defense as a team. A lot of that comes down to basic fundamentals like moving their feet and not reaching as well as communication and focus. Teams getting to the line frequently has been a problem for most of the season. IU's first opponent, Florida Gulf Coast, shot 34 free throws. The Hoosiers have been out of position at times, which causes breakdowns and leads to fouling. Something will have to give on Saturday because, as you said, Michigan isn't getting to the line much and Indiana is sending teams to the line at a very high rate.
After a 9-2 start, the Hoosiers are on a six game losing streak. What has changed over the last three weeks and why can't Indiana win a game?
Bozich: A lot of the struggles can be attributed to the fact that the schedule has gotten tougher in recent weeks. I'm not sure the team has played any worse overall in the last three weeks, it's just that deficiencies that were masked against inferior competition are now coming to the forefront. Most expected Indiana to win at least one game in Las Vegas — and they lost to both Northern Iowa and Colorado — and Penn State at home was also penciled in by many as a win. Of IU's nine non-conference wins, only one of them (Wright State) was against a team in the top 100 of Pomeroy. So while it might have seemed like a good idea in theory for a young team to stockpile wins early, the fact that the Hoosiers have not been able to close out games against tougher competition is cause for concern.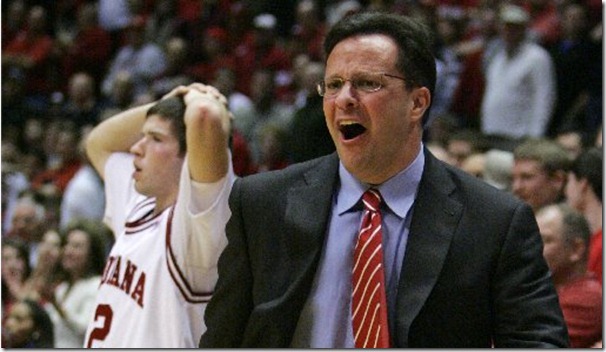 Michigan has extremely young post players and they've seen their ups and downs. Over the last two games they've faced off versus the Morris twins and Kansas and Jared Sullinger at Ohio State, what will they see versus Indiana?
Osterman: The thing about Indiana's posts is that they all come with obvious positives and negatives. Tom Pritchard, the only junior among the bunch, is easily the Hoosiers' best post defender. He's got solid footwork and loads of experience. He's also rarely a factor on the offensive end of the floor, and still has a habit of getting in foul trouble too easily. Sophomores Derek Elston and Christian Watford, as previously mentioned, are the strongest big men Indiana has offensively. But both of them go through obvious problem periods on defense, when they're clearly struggling. Sophomore Bobby Capobianco, who it was thought might provide a sort of physical presence off the bench, has struggled to win many minutes, primarily because of foul trouble. He's averaging two fouls per game in less than seven minutes played. It should be noted Indiana isn't a low-post centric team to begin with, but it's definitely a mixed bag for a team that's played Syracuse, Kansas and Ohio State this year.
My short memory of Maurice Creek before his injury was a dynamic 6-foot-5 guard that was lethal shooting the ball from the perimeter. This year he appears to be a shell of his former self. Explain his struggles, is it health or something else?
Osterman: Probably our most oft-asked question for most of the season. My rote response is this: Creek's injury was problematic in that he was incredibly limited in what he could do physically while he recovered from the fractured kneecap. As such, he lost a ton of strength in his legs, so much so that he's probably not even where he was at the beginning of last season, in terms of strength. That's changed everything about his game — his speed, the lift on his jumper, his leaping ability — such that he's even passed up on open dunks, deferring to nearby teammates. Has that hurt his confidence some? Probably, but it's not like he doesn't believe he'll ever be good again, I don't think. I've heard talk of him finding some of last season's form again around February. It would be realistic, from the viewpoint of someone who is obviously not involved in whatever conditioning he is doing in-season, to expect that he needs a full offseason to get back to where he was in terms of strength.
Who is one Indiana player that Michigan fans might not be familiar with that could have a big game on Saturday?
Bozich: I'll go with Jordan Hulls, the sophomore guard who is a Bloomington native. He's shooting over 55 percent from the field (49 percent on 3's) and the Hoosiers have to get him more shots in the offense. I think Saturday is a good opportunity for Hulls to become more assertive because he'll be playing against a backcourt that isn't particularly overwhelming from a defensive perspective. Hulls tends to have problems getting his shot against quicker defenders, but he's also become fairly good at getting his shot off the dribble. If he knocks down a couple of shots early, he's capable of going on a run from the perimeter. Another guy to keep an eye on: freshman wing Will Sheehey. Crean has stated that he needs to play more and good things usually happen when he's on the court. Sheehey can do a little bit of everything, but he's a surprisingly good athlete that loves to slash to the basket.