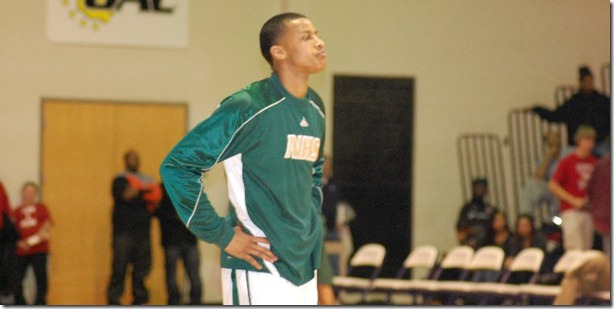 Our apologies for the lack of a recruiting roundup last week. We will hopefully be back to our normal weekly schedule from here on out.
Class of 2011
Trey Burke – Commit
Burke had 30 points on 13 of 18 (2-4 3pt) shooting with five rebounds, four assists, and two steals in an 85-51 win over Beechcroft on Monday night.
We posted video of Northland's win over St. Vincent St. Mary's over the weekend, Burke had 19 points and eight assists in that contest. We also posted a couple other videos of Burke last week.
Carlton Brundidge – Commit
Brundidge had 25 points in a 71-59 win over Pontiac. Carlton also had 29 points in an 86-60 win over Detroit Southwestern. Southfield did suffer an upset loss to West Bloomfield but will try to get back on track versus a loaded Detroit Country Day squad tonight.
Class of 2012
Robinson had 21 points in a 68-56 loss to Merrillville, the number one team in the state of Indiana. In a 77-75 win over Lowell, Robinson had 26 points, 11 rebounds, six assists, and three steals. In a loss to Crown Point, Robinson had 28 points and 10 rebounds.
Nick Stauskas

Stauskas had a team-high 24 points in a loss at the Hoop Hall Classic.
Joe scouted Sherron in Lansing last weekend and the talented junior guard also had had 23 points in an 80-74loss to Detroit Crockett.
JaVontae Hawkins

Hawkins had 17 points in a win over Swartz Creek. He also had 23 points in a loss to Cass Tech.
Jordan Hare
Joe posted video of Hare last week. Arthur Hill fell to cross town rival Saginaw High last week as Hare fouled out.
Sean Sheldon
Sean Sheldon had 18 points in a win over Boyne City.
McGary had 19 points in a 99-63 win over Vermont Academy on Jan. 22. He was not listed among the leading scorers on the school's website in a 62-38 win over Proctor Academy on Jan. 19.
2013 Bullets
Stephen Bell ranks the 2013 in-state prospects half way through the season.  He also posted rankings for 2011 and 2012.
Zak Irvin had 16 points in a 71-70 win over Cincinnati Taft on Jan. 15. He also had 16 points in a 63-61 loss to Westerville (OH) at Flyin' to the Hoop in Dayton (OH) on Jan. 17.
Basil Smotherman had 7 points points in a 84-69 win over Indianapolis Howe in the City Tournament on Jan. 18. he added 11 points in a 94-76 loss to Indianapolis Northwest.
Derrick Walton had 21 points in a win over Scott. He also had 15 points in a win over Henry Ford and 20 in an easy win over Detroit Plymouth Educational.
Jackson Lamb had 27 points in a loss to Skyline and 28 points and 12 rebounds in a loss to Adrian.